Lighting Control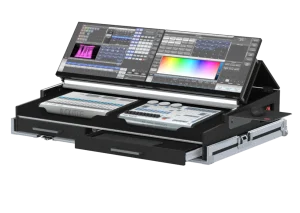 Avolites Titan Mobile with Wing – Complete LX Desk Ready to Go
Cased in a Santosom Flightcase – an all in one ready to use solution.
Features include:
2 x 21 inch touch screen
Avolites Titan Mobile
Avolites Titan Mobile Wing
Keyboard in drawer, Mouse included with side mouse pad
Dimmable LED working light illuminates Desk, Draw and Keyboard
UPS
Easily accessed DMX outputs and power input on rear of the desk. Neutrik EtherCon on rear of the case for connection to either Artnet and or Avolites TNP
4 universes of copper DMX plus 16 Universes of Artnet
List Hire Price for Complete Avolites Titan Mobile and Wing
Trade Customers Eligible for Discount
From £150 / Day
From £450 / Week
Avolites Titan Wing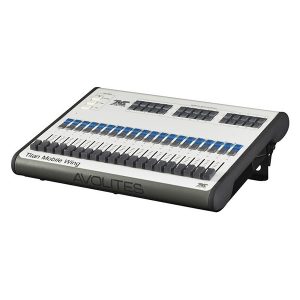 Expand any Titan console for even more live performance space
20 playback faders
30 freely programmable macro/executor buttons
Switchable to 60 pages independently from the console
Power supply via USB – no power supply required
Robust and durable – in proven Avolites quality
Extra window in the Titan software to display the assignment
No installation required – connect to the desk via USB and get started
The Titan Mobile Faderwing from Avolites is the ideal extension for your Titan console. It seamlessly adds more faders and buttons, and integrates seamlessly into the familiar program environment. Simply as if your console had grown. It provides direct access to your most frequently used elements such as shape overlay cues, blinders and fog machines. 30 user-programmable executor buttons provide control or selection of cues, lists, palettes, groups or macros. Live playbacks, solo and flash buttons, user programmable buttons and attribute controllers allow for fast and accurate show programming.
It is compatible with all Titan consoles from Titan Mobile on up. Titan software version 7 or newer is required. Supplied with Avolites PC bag and cover (same as the Titan Mobile).
List Hire Price for Avolites Fader Wing
Trade Customers Eligible for Discount 
From £60 / Day
From £180 / Week
Avolites TNP

Racked in a case with wireless router and extra EtherCon Connectors
Features include:
The TitanNet Processor is the insides of a console without the control surface. It allows you to expand the number of DMX lines in a show beyond the 16 which a console can produce by offloading the processing into a separate unit.
MIDI and SMPTE connections
Network connections.
Eight DMX outputs on XLR
Integral touch screen for local setup and control
Power switch
USB for keyboard, mouse or memory stick.
Racked with Wireless access point to allow use of Titan Remote Software
Extra EtherCon connectors in the rack for Artnet
100m dual EtherCon Multi available allowing TNP to be placed on stage and all DMX to be handled by Titan Net
It is also possible to improve robustness by running the whole show from one or more TNP units onstage and having the console simply acting as a remote control. The TNP can also act as a simple stand-alone controller using the onboard touchscreen, or by connecting an external touchscreen you can operate it using the Titan Go screen. It can load shows which have been created on a full console. You can also use a console in multi-user mode to create shows directly on the TNP.
List Hire Price for TNP with Wireless AP / Switch
Trade Customers Eligible for Discount
From £120 / Day
From £360 / Week